Biography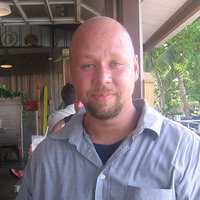 "You're mad, bonkers, off your head! But I'll tell you a secret: all the best people are!" 
~ Alice Kingsley, Alice in Wonder Land
Introduction
Julio Medina is a Computer Animator/3d Artist who is experienced in producing 3d art for the film, gaming, travel & leisure, advertising, and print production industries in a professional environment, including for Sony Online Entertainment. He graduated from Full Sail University with a Bachelor's Degree in 3d Computer Animation in 2005 and was awarded the highest honor at the time, the advanced achievement award.
Career Background
Two months after graduation Julio launched his computer animation career by winning a position as a 3d character modeler for 3dh Entertainment, a small production studio located within the scope of Disney World, in Celebration, Florida. He primarily worked on stylized computer animation for film and television.
Within a few months he was recognized for his unique talent in balancing artistic talent with a strong technical aptitude along with a well disciplined work ethic. Superiors and colleagues referred to him as an artist who is a quick learner and reliable in meeting deadlines without compromising quality. He quickly earned the Lead Modeler position. As a Lead Modeler, Julio bridged the gap between departments, leveraging his versatility in modeling organic characters, building hard surface props, developing 3d environments, creating blendshape libraries, and rigging anything from bipedal insects to multiped robots.
Julio later joined an industry-leader in entertainment, Sony SOE Denver, as a 3d Artist. He continued to impress and exceed expectations in 3d character generation and as the Lead Setup Artist. He was key in developing the Sony Character Rigging Pipeline. He was involved from conceptualization to implementation. Julio embraced leading complex projects such as creating VFX game effects and he became a major asset to the company.
After fulfilling his contract with Sony Julio moved back to Florida to work as a Lab Instructor for Full Sail University where he attended as a student. He was a gifted teacher and natural motivator who enjoyed inspiring fresh students to the wonderful career of 3d computer animation. Within the confines of Full Sail, he leveraged his experience during the Character Design and Creation class and introduced the pupil to the intricacies of 3d character modeling. His technical experience as a set-up artist and his creative experience modeling characters helped Full Sail propel the CDC class to new heights of learning and development.
His earlier career accomplishments were in the fitness training industry where he was recognized for his comprehensive knowledge in human anatomy and muscle mechanics. He worked as a Certified Personal Trainer at the New York Health and Racquet Club for eight years.
The Present and Future
Julio has become a sole proprietor as an independent 3d Artist, expanding on his skill set by including 2d and 3d work for resume writing services, while offering 3d art as a freelancer. His future plans include continuing to add to his 3d artist skill set as a freelancer and in a professional pipeline focused on developing assets for film, television, advertising, and web development. His current personal works involve a 3d comic book production titled "The Holographic Dominion".
Julio is passionate about 3d modeling, rigging, texturing, and digital sculpting, which is evident in the quality of his work.