Quality 3D Art Services / Assets
Engineering versatile and quality characters, props, and environments for hyper-real, realistic, and stylized 3D animations
3d Art and Computer Animation Services for the Film, Television, Gaming, and Corporate industries with a specialty in 3d Modeling, Digital Sculpting, Texturing, and Rigging/Set-up…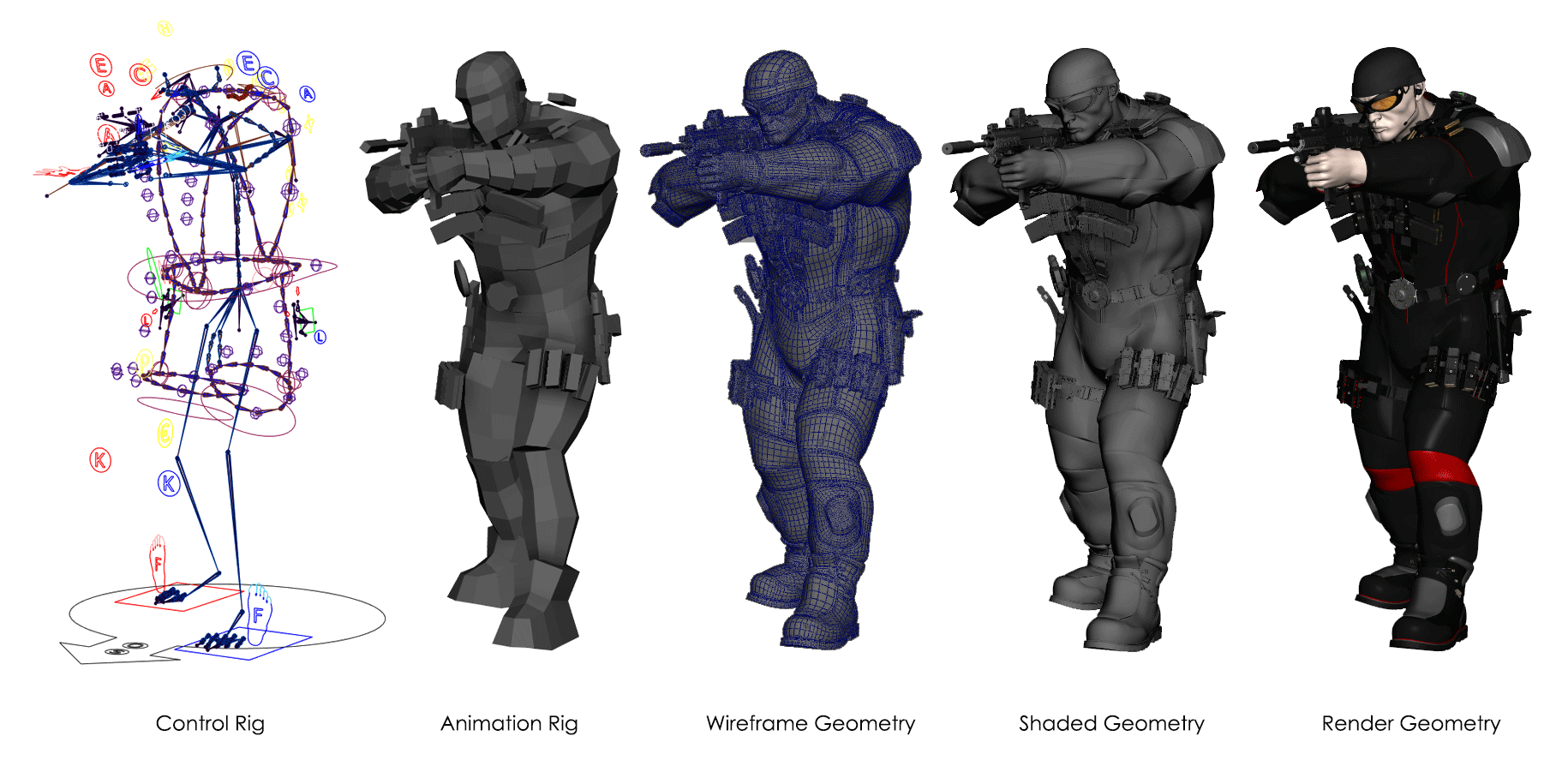 Medinamatrix offers full range of 3d production support from 3d modeling to pre-lighting and pre-rendering of assets…

3D MODELING
Organic Characters (Realistic and Stylized): Biped, Quadruped, Multiped, Serpentine, Avian, Etc.
*Above is an example of some character models and props I created for the movie Saving Santa.
*Above is a trailer for the Deep Blue Bible Kids animation which I provided character models, character rigs, UV maps, props, texturing/shading, and renders.
Hard-Surface Characters: Robots, Androids, Cars, Airplanes, Boats, Mechanical Devices, Etc.
*Above are 3 airplane characters I modeled for a children's cartoon called The Big Winner. This is a pre-rendered short clip. Animation provided by Eric M. Mikula. 
Hard Surface Modeling: Prop and asset development for characters and environments (weapons, vehicles, tools, background elements…).
*Above is a fully functional rigged AA-12 Shotgun Prop designed to be shot with shell casing expenditures and magazine changes.
Environment and Digital Sets Modeling: Hard-surface, organic elements, and dynamically driven effects-based objects.
Blendshape Modeling: Facial in-betweens, facial regional counter-balance, single, and multi-axis corrective blendshapes for character animation.
*Above is a clip from a short film production for 3dh Entertainment called The Push. I modeled, rigged, and sculpted the blendshapes for both characters. Animation by Eric M. Mikula.
DIGITAL SCULPTING
Highly detailed normal map and displacement map generation, replicating aesthetic and dynamic form, shape, and line to enhance the 3d modeling pipeline.
TEXTURING/UV MAPPING
Characters, props, weapons, and environment components. Implement uniform displaced geometry to support texturing and UV mapping pipeline.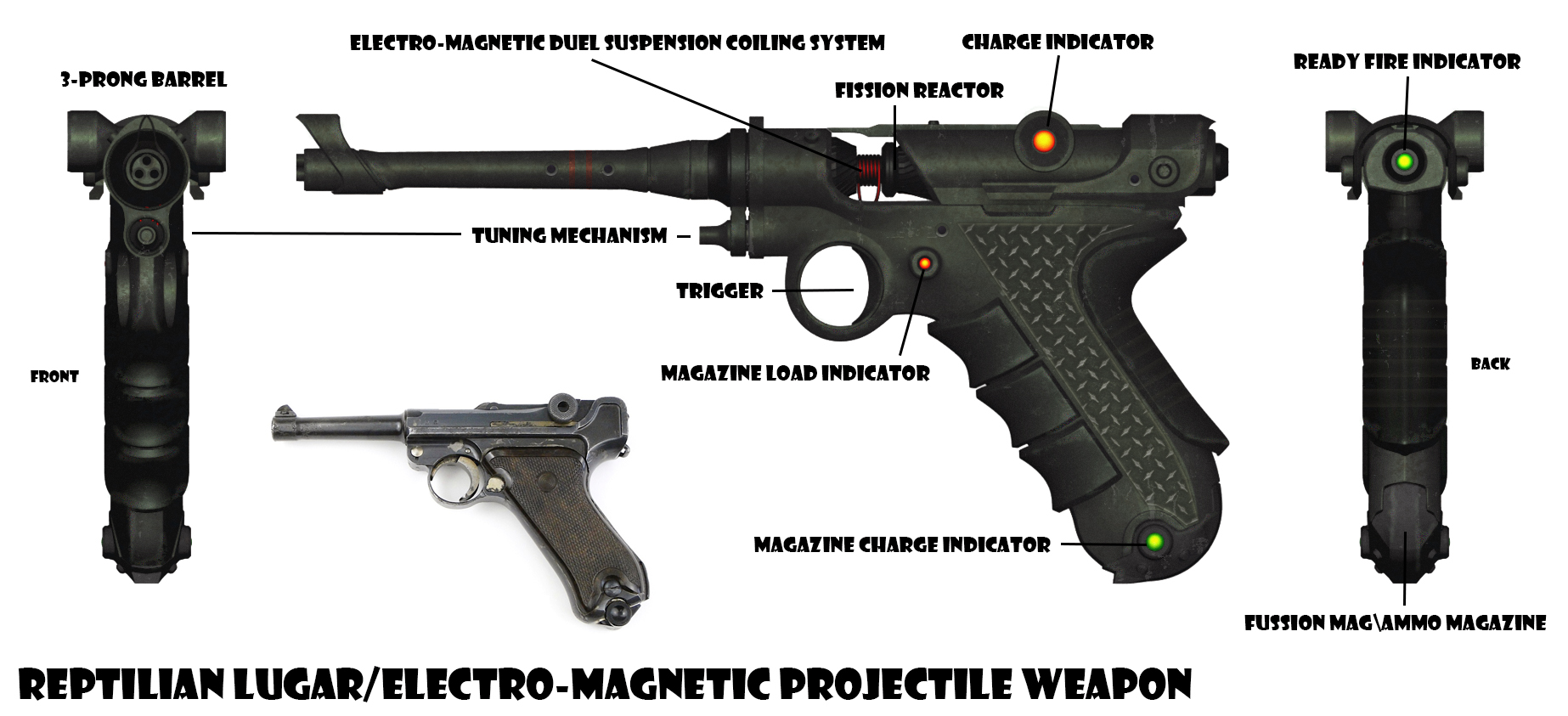 *Above is a alien weapon concept I created from a World War 2 German Lugar Pistol. Modeled, UV Mapped, Textures, and Rigged.
RIGGING / SETUP
Articulate characters, props, and weapons for motion and acting. Build archetype set of characters for animation transfer and outsourcing companies. Construct animation friendly characters and mechanical rigs.
*Above are some of the rigs I produced at Sony Online Denver for the 3d Magic the Gathering online game . I managed the rigging pipeline of almost 100 characters and created almost 30 rigs from scratch. I also modeled, textured, sculpted normal maps out of ZBrush and created 13 archetype rig templates for the entire production.
PIPELINE
Manage modeling pipeline and supervise generalist modelers, set-up artist and interns; small team of outsourcers and 3rd party freelance partners. Perform research and development. Meet with other department heads such as production manager, technical director, and visual effects lead to enhance modeling, rigging, and animations. Confer with animation and story departments to discuss and determine technical limitations.

*The above subject is a morphing character for a static 3d comic book production. The character is more then adequate for kinesthetic movement, voice, and emotion acting. The surface consist of 65,000 polygonal faces and the wireframe was constructed to adapt to the transformation of a small child into a 9 foot tall draconian beast. The rig consist of 4 character targets, 17 swappable meshes, 16 control systems, 5 bound systems, 2,629 joints, 64 muscles, 43 reference bones, 315 facial blendshapes, 26 facial cluster controls, and 1,123 animation controls. It took 6 months to complete. Displacement and textures maps are currently in production.